OUR STYLE:
Cheng Man-Ch'ing's
Yang-style
37-posture short form
There are many styles of Tai Chi.
Here are some
of the the well-known styles:
CHEN
Oldest style.
Dynamic. Fast + slow.
YANG
Most popular.
Most widely practiced.
Slow + flowing.
WU
Small frame.
Wu came after the Yang style
and modified it, made it smaller frame.
HAO
A very internal style.
Considered more advanced.
SUN
Newest style.
Was developed in the early 1900's.
Mixes styles (Bagua + Wu)
Rapid foot movement.
Quick movements.
High stances. Natural.
The feet are never wider
than shoulder width apart.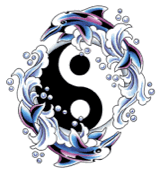 Honor through the Martial Arts