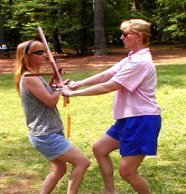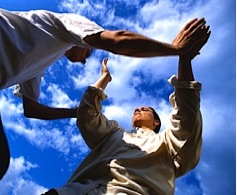 BEGINNERS:
FORM
Before learning the form, beginning students first learn basic moves, called postures, such as Ward-off, Push, and Single Whip. Most of the postures that beginners learn are still postures, though beginners are introduced to a few basic moving postures.
Beginners also learn how to apply weight change, how to turn their body properly, and how to move so that the whole body is connected.
PUSH HANDS
Beginning students begin to keenly develop listening and sensitivity skills be doing basic PUSH HAND drills with a partner. They also are taught how to deflect and re-direct an attack by knowing where their centerline is along with their partner's (and what that means), aligning their body properly, turning their body at the right time, and applying weight change.
SWORD
Beginners learn 10 basic sword blocks and strikes before learning how to apply these blocks and strikes in combination, both solo, and with a partner.
INTERMEDIATE:
FORM
Intermediate students begin to put the pieces together. After learning some of the moves, they begin to learn the form.
PUSH HANDS
Intermediate students begin to learn the two-person choreographed push-hand drill with a partner, applying moves learned in the form. Through this two-person drill, the student learns how to react when their partner does the following moves: Push, Press, Ward-of, Shoulder strike, Punch, Chicken-wrist, and 7-Stars.
SWORD
After learning 10 strikes and blocks, students do sword drills with partners.
They then learn the two-person short choreographed sword scene performed with a partner.
ADVANCED:
FORM
Advanced students know the entire form.
They spend years cleaning up the technique and cultivating chi in their form.
PUSH HANDS
Advanced students are able to unbalance their partners during push hands through grounding, neutralizing, rooting, directing, and utilizing their chi.
SWORD
Advanced students learn the long choreographed sword form, both solo and with a partner. They are also adept at free sword play with a partner.
To an advanced Tai Chi practitioner, their sword feels like an extension of their arm.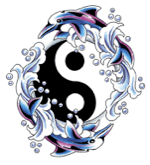 Honor through the Martial Arts