Honor through the Martial Arts

• Attitude
• Attendance
• Missing a Month of Classes
• Testing
• Tournaments
• Outings
• Ordering Supplies
Missing many classes will cause you to get behind and will show in your performance in the class. Good attendance reflects positive attitude and shows that you are eager to learn martial arts.
Some students make the mistake of coming to class when they "feel like it." Attend your martial art training as part of your schedule, the same way you go to school or work.
Let Sensei know if you miss a week or more of classes.
MISSING A MONTH OF CLASSES
If you miss a month, you don't have to pay for that month, but you do have to re-pay the $25 init fee when you rejoin. Students who are out for 3 months or longer have to start over with their stripes. Students who are out for 6 months or longer may drop rank because most likely, your technique will have gotten rusty.
You are probably entering Red Sun Academy as a white belt. It takes approximately 4 months (longer for smaller children) to achieve each beginning belt (yellow and orange), and approximately 8 months to achieve the rest of the belts, until you go for your black belt. That takes about a year. Thus, it takes at least five years to earn a black belt. If you do exceptionally well, you may test sooner. Children often take longer.
Once you have earned all 5 belt stripes,
(which include knowing your kata, your self-defense, meeting attendance and technique requirements, and contributing something to your community), you are eligible to test.
Testing fees are $25.
This price has not changed in over 25 years. This price includes your new belt, a detailed testing evaluation report, and your certificate which will be awarded to you should you pass.
for more details on testing.
Occasionally, Red Sun Academy attends tournaments. We have attended numberous tournaments in the past (see PHOTOS), both large events, and small in-house tournaments. Participaing in tournaments is exciting, and creates bonds with other students. You must remember that tournament fighting is only a small part of martial arts, and that it is more important to know how to lose gracefully than to know how to accept a trophy. Having a positive attitude at a tournament is more important than winning a match.
To get to know each other better, we plan fun events outside the classroom, such as beach trips, dinners, hikes, going to the movies, etc. Try to attend. This shows good school spirit. Also, it's a lot of fun!
If you'd like to order uniforms, sparring gear, patches, heavy-weight uniforms, or targets, you can either talk to Sensei, or check other venues such as Amazon to get the best price. You can place an order any time. Please pay when the order is made. Items cannot be returned after 30 days. Every effort is made to keep costs low.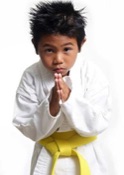 Attitude is more important in martial arts than physical ability, contrary to what many people believe. A strong and positive attitude will build a strong base or root. Good attendance, showing respect to your dojo, participating in academy events, and showing an eagerness to learn all reflect a positive attitude. Not only does this academy teach self-defense, but also how to build character so that you can be strong both mentally and physically.